Some of you Queefs don't care about pictures of Girlfriend because you're young and drunk and everything but Crissy knows that most of you do and so here.
You're going to look at some pictures of her and you're going to fucking love the shit out of it because she's what Crissy feels like talking about today and if Crissy feels like talking about it by golly she's going to because this is Crissy's Page.
CRISSY'S
PAGE!!!
So suck it.
Girlfriend has been dressing herself lately and Crissy lets her because
A: Crissy is tired and it's just not worth the trouble to stop her so if it's appropriate for the weather, Girlfriend is good to go.
B: Girlfriend's get-ups are Short Bus Chic (she totally gets that from her father) and Crissy thinks she has a future designing either for People with The Retardation or People With Way Too Much Fucking Money.
See this?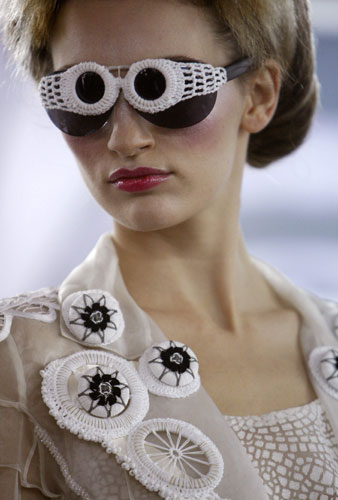 Totally something Girlfriend would put together.
So who is Crissy to stop genius at work?
She's nobody.
First up is this lovely ensemble which you'll notice is almost identical to the one pictured above but Crissy can assure you it is an original creation by Girlfriend. It was designed to help daddy with the baby's room.
Crissy took this picture and then Mister posted it on HIS blog. AS. IF. DUDE.
But Crissy will fix his wagon, don't you worry your pretty little Queef heads about that.
Crissy has the punani and therefore, the power.
There will be no more picture stealing going on up in here.
A little flower child action
If only Janis Joplin had thought to wear tap shoes, who knows how it would have changed the course of her life?
Here's the special outfit she chose for blowing bubbles out in the yard.
The hat was really cute with it, but Mister made her use the picture without the hat in it even though Crissy said she wanted the picture with the fucking hat in it because the picture is about the ensemble and not about art.
He's been causing trouble Queefs. Can you tell?
He's a big pain in Crissy's ass with the pictures all the time.
And of course Girlfriend does not limit her designs to just herself. Crissy caught her putting lipstick on the dog the other day (Crissy's most favorite Clinique Black Honey thankyouverymuch. Sorry Rachel. Crissy loves the Black Honey.) and also Mister caught her giving her a hair cut. Both times the explanation was that she was "getting Alice ready for a dog show."
If you ask Crissy, Girlfriend is lucky Alice lets her keep her face.
She kind of does need a haircut though…
And Girlfriend is such a threat to designers like old Mr. Valentino that he was forced to retire and then go cry in a bag of pug chow.
Similar Posts: