Crissy knows she promised the Queefs that she wouldn't post stuff about being pregnant unless it was noteworthy or funny or something because she is well aware that other people's pregnant stories sound fascinating to them and no one else.
In fact, it would make an awesome eecard:

But this?
This is reaching a height of ridiculous that Crissy did not expect and thus it is noteworthy.
The other day Crissy put on a Barbie and the 12 Dancing Princesses movie for Girlfriend and, well, Crissy has been feeling a lot like having Sexy Time lately because of all the hormones and everything and she found herself with a sudden and intense desire for the prince in the movie who apparently has quite the little fetish for women's shoes:
Maybe that's the attraction because Crissy also likes shoes.
But he wasn't even in doll form in the movie so it's not like Crissy had some sort of Real Doll fantasy or something.
That would be almost a little bit normal.
But he's a cartoon!!!
Watch this one minute long video that Crissy cannot figure out how to embed even though she's done it a millionty times before because she's got pregnant brain and that will lead her to another complaint which she may or may not get to in this post. We'll see.
And it's not the old blond haired dude you see in the first part either.
Crissy's not a total sicky.
Prince Derek is the one with the bird on his shoulder.
He's soooo dreamy.
Derek, not the bird.
He brings about a stirring in Crissy's underpanties the likes of which we have not seen since Mick St. John: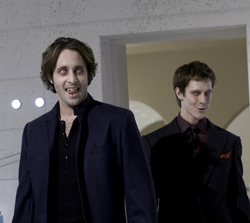 Only Mick St. John is a real vampire and Prince Derek is a cartoon.
huhuhuhuhuh….bite Crissy Mick, bite her….
Okay Crissy that is QUITE ENOUGH!

You see the problem right Queefs?
This cannot be normal.
Please Queefs.
Tell Crissy who may or may not have rubbed one out to Prince Derek last night while Mister was working late and so unable to tend to Crissy's needs that you too have wanted to do Very Naughty Things with a cartoon.

Similar Posts: