Every once in a while when Crissy is so bored at work and Lynne is doing something lame like her job and Crissy is desperate for entertainment she goes over to see what her old friend Doocie is up to.
As you Queefs may or may not know, Doocie tried to bite Crissy's style by getting pregnant right after Crissy did. But HA! Crissy owned Dooce AGAIN (remember she beat her for Hottest Mommy Blogger? Go Queefs!!) because Taco is due in the beginning of June and her baby is due in like the middle of June.
Pppppppbbbbbbbtttttttttttttttt!!!!
And speaking of pregnant posts, you Queefs need to thank Crissy for not posting about her morning sickness or her sore boobies or Girlfriend's every thought and feeling on the topic of big sisterhood, or her ultrasound pictures, or what her doctor said about caffiene (sadistic asshole), and the myriad of boring bullshit that Crissy could torture you with but doesn't because many of you are twentysomethings and babies aren't even on your radar yet.
Crissy knows you don't really give a rat's ass and so you're welcome.
Crissy will post about pregnant stuff when something worth discussing comes up.
Like she's doing today.
And like she will do when she goes shopping for maternity pants. It will be fraught with disaster just like any other pants shopping excursion only maternity pants are hideous and you Queefs will love it.
But anyways, so when Crissy went over to read up on Dooce's latest fascinating escapades she found a picture of Doocie's "pregnant" belly. It was taken at like 15 weeks or something like that. Crissy wasn't really paying too much attention but it looked very much like this: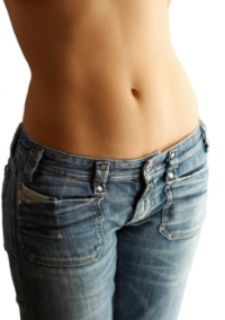 And she's all "I can't believe how much I'm showing already!!!"
And Crissy is all "WHAT????"
Now you've all seen Crissy in the nakeds (oooo…wait! Crissy AND The Nakeds would be a great band name! We should start a band!) and so you know Crissy is not a large person and in fact was six weeks pregnant when that naked picture was taken so it's not like Crissy has weight issues.
But seriously?
Crissy may have looked like that when she was five minutes pregnant but at ten minutes pregnant Crissy's belly looked like this:
That is not a picture of Crissy, FYI.
It could be the wine bloat water retention that made Crissy's belly look big but come on now!
Crissy is calling bullshit on Doocie.
BULLSHIT!
She had to be sucking in.
Had. to. be.
Oh and there's another poll for today.
The people seem to like them.
Loading ...
Or is that just Crissy who likes the polls?
Should we do a poll to find out?

Similar Posts: