Crissy went on a little bit of a shopping spree on Saturday sans Girlfriend and it was glorious. She was able to try on clothes without spending the entire time arguing with Girlfriend about getting out of the stroller (she peed under a rack at Old Navy once and Crissy had to use a Clearance sweater to mop it up. It's okay though because the sweater was u.g.l.y.) or searching her bag for a cup of juice, a bag of bunny crackers, or her beloved die cast Thomas the Tank Engine.
And Crissy got a bunch of essential things like pants for work and her first pair of skinny jeans since 1986 and she'd show you pictures but you really don't give a rat's ass and also Crissy got some things she's needed for a while but just put off getting.
Like these little Sockettes, for example: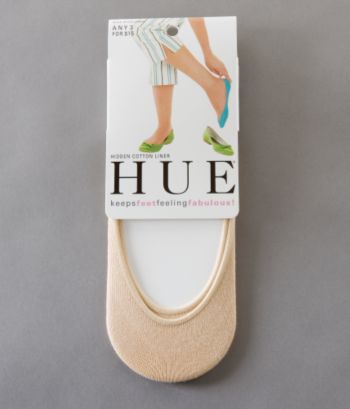 They're actually called shoe liners but Crissy thinks Sockettes is better. Try saying it.
Sockettes.
Now try it with an Outrageous French Accent.
Sockettes! Awhuhuhuhaw!
See?
Fun.
For the uninitiated, these little jobbies are meant to be worn in lieu of socks so that the wearer can look stylishly sock-less whilst her tootsies stay warm and dry and comfy all day long.
They're supposed to HIDE in the shoe.
As in not visible.
They are the most bullshit product ever made.
Granted the ones pictured above are not the ones Crissy bought. She got the Target brand ones but really they're the same thing and Crissy was sooo excited about her new Sockettes that she rushed home to try them out with all her favorite shoes and this is what happened:
FAIL.
Big. Giant. Fail.
So Crissy has decided that what she will do instead is just go the opposite direction and just wear the loudest, most obvious socks she can find.
These are rather nice…
Puet sucez mon pénis, Sockettes.
Awhuhuhuhaw!