Oy.
I think I'm gaining weight because I've plateaued with my yoga. Even though I work out plenty, it's not really doing any good anymore and I am not yet ready to face the truth about the correlation between my boozing and the increasing size of my ass.
So on Sunday, out of desperation, I did this tape:
Remember this bad boy?
Back in the 80's it was like totally radical!
It's the only one of my old tapes that I kept because it's just too awesome to throw away. My mom and I worshiped at the altar of big hair and shiny leotards every morning.
But to be honest with you Internet, the tape just didn't do it for me because
#1 It's really fucking stupid
#2 I can't understand why Jane's hair doesn't move even as she's grapevineing and chicken turning like a motherfucker. I find it distracting.
#3 I think this would be more challenging:
After I finished the tape I felt really blue balled and so I did the yoga. That makes 100 minutes spent working out.
Woot! Woot!
See my halo?
So I typed my exercise total for the day into Weight Watchers and it was only worth a measly 3 points. THAT'S IT! If you don't do weight watchers you don't know this but 3 points ain't shit.
And then yesterday I decided I would become A Person Who Runs. I would like to tell you that your Crissy ran like the wind! But if I did it would be a mistruth and "lie just a little bit, but not too much" is my motto.
I ran for 10 minutes because you have to start somewhere and it was only like a mile and change because I thought I might throw up and die. I set small goals for myself along the way like "don't collapse before you reach the stop sign up ahead" or "wait till you get to that BMW and you can throw up in the window" or "catch up to the teenage girl doing the walk of shame home in some dude's boxer shorts and gasp tramp! at her as you run by."
The goal setting was a complete success as it got me home without quitting like a big pussy. But you know something Internet? Running sucked.
I am Not A Person Who Runs.
So I ordered some videos from the library and they haven't come in yet, but I think what we're going to do is I'm going to show you how I'm doing and you are going to tell me if you think it's working for me or not.
This is the first workout I think I'll try: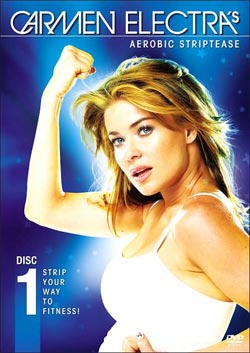 That's right Internet. It's sexy time.
Wait for it…

Similar Posts: