I'm hurt Internet.
If you were me, would this go up your ass sideways and then backwards and then do a twist and swirly and a few karate kicks?
I'm a Saylesville woman. Not a hero. Not a even a god damned Good Samaritan.
When I picture a Saylesville woman I picture this:
Not this:
Sorry. Wrong picture.
Wait a second.
Okay, not…
this:
And it turns out that Officer Dreamy McHot isn't his real name after all.
I could have sworn that's what it said on his badge.
Huh.
It was also on the channel 12 news and that story is even more infuriating than the stupid newspaper article because it made
NO MENTION WHATSOEVER OF THE QUEEN OF FUCKING EVERYTHING.
None.
All they said was that there was a commendation ceremony (!) held on Saturday for the fireman who "spotted a boy struggling in the water and bravely swam out to save him."
He-ll-ooooo!
Is the fireman psychic?
Did a little birdie tell him there was a problem in the pond?
WAS LASSIE THERE TO TELL HIM TIMMY WAS IN TROUBLE AGAIN????
Fuck. no.
IT WAS ME!!!!
We tried to get the news story on video but of course at the crucial moment the fucking shit fuck camera asshole would not work.
Needless to say, I'm outraged Internet.
I wish it was on the channel 10 news instead of the stupid crappy channel 12 news because channel 10's Frank Coletta woulnd't do me like that and put the story on without interviewing the Saylesville woman who made the call in the first place.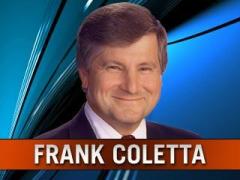 See?
He's nice.
And btw, he'd never call me a Saylesville woman.
He'd call me by my proper name.
The Queen of Fucking Everything.
And he'd include the Fucking part too.
Because he's cool like that.
And accurate.
And you know what else really puts a fly in my ointment? Everyone is calling the fireman a "hero" and giving him medals and plaques and shit and he was just doing his job. It's his fucking job to fucking save people. Is this what happens to you guys when you do your job because if it is, I need to speak to my boss. She never gives me stuff when I catalog a book correctly without being asked (even though it's a rare event).
I just don't think we should go tossing the word hero about so carelessly like we do.
I'll shut up about all this now, but just so you know, next time I hear someone drowning in the pond?
Fuck 'em.
I'm going to let the psychic fire department handle it from now on.
I don't even know why they have a phone.

Similar Posts: